At the Table
Find this page at:
go.ncsu.edu/readext?691756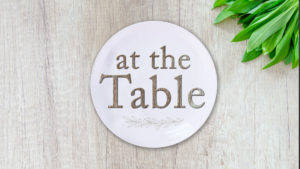 Our new cooking show with Star Communications has officially aired on the local channel 16! At the Table is an educational cooking show using realistic recipes with ingredients that are easy to find locally. You'll learn how to make delicious healthy meals, the "why" behind eating nutritious foods, tips, and tricks to help you become a master chef in the kitchen, and so much more! Join us on Tuesday's on channel 16.
Don't get Star Channel 16 where you live?
No problem! Find each episode right here on our website. You can also subscribe to Star Communications on YouTube to get notifications each time a new episode airs!
Episode One: Intro to the Mediterranean eating pattern. The Mediterranean diet has been shown to reduce your risk for type 2 diabetes, heart disease, and related health conditions. Learn how to GO MED with these simple recipes!
Recipes: Super Tomato Soup & Lunch Salad
Episode Two: Mediterranean eating: Change up your protein. Learn how to make delicious tacos with a secret ingredient that will help make them more nutritious!
Recipes: Mushroom Beef Tacos and Avocado Salad
Episode Three: Mediterranean eating: Swap your fats. Find out some healthy options to replace saturated fats, and improve your cholesterol!
Recipes: Mediterranean Tuna Salad and Spicy Roasted Cauliflower
Episode Four: Mediterranean eating: Increase your fruits and vegetables. A diet high in fruits and vegetables has been shown to lower weight and improve cardiovascular health, along with protecting against chronic disease. Try these tasty recipes to up your intake!
Recipes: Mango, Black Bean, and Quinoa Salad and Mushroom Almond Burgers
Episode Five: Mediterranean eating: Up your whole grains.  Sydney discusses whole grains versus refined grains and why whole grains should be your go-to! Learn how to make a tasty snack or appetizer for the family, and switch up your Chicken Fried Rice to be a little healthier.
Recipes: Chicken & Vegetable Fried Rice and White Bean Hummus
Episode Six: Mediterranean eating: Rethink your sweets. A high-sugar diet has several negative health impacts. Learn how to cut your sugar in these tasty breakfast recipes.
Recipes: Banana Oatmeal Pancakes and Banana Nut Muffins
Episode Seven: Summer Series: Episode 1. Looking for a fresh and satisfying summer meal? Try out these delicious fish tacos from one of cookbooks offered through N.C. Cooperative Extension programs.
Recipes: Festive Fish Tacos, Slaw Mix and Salsa
Episode Eight: Summer Series: Episode 2. Need a healthy dish to take to a friend or family gathering? Taking a healthy dish to an event ensures you have something nutritious to eat while you are there. Learn how to make a quick and easy fruit dip and Sydney's favorite Bruschetta on today's episode.
Recipes: Sydney's Bruschetta and Healthy Fruit Dip
Episode Nine: Summer Series: Episode 3. It's summer! Crank up the grill and use up that garden bounty. Learn how to make tasty grilled veggies, citrus marinated chicken, and, Sydney's favorite, baked okra – a delicious and healthy way to use up all that fresh okra!
Recipes: Easy Baked Okra, Citrus Marinated Grilled Chicken, and Grilled Squash and Onions.
Episode Ten: Summer Series: Episode 4. When it's this hot outside, sometimes you just need a light, refreshing meal to cool you off. Try out this summer salad with grilled salmon! This salad is a great way to use up any leftover veggies you have in your fridge, and incorporates fresh herbs and fresh peaches to really satisfy your taste buds.
Recipes: Rainbow Veggie, Peach and Basil Salad with Marinated Salmon
Episode Eleven: Cheesy Chicken Artichoke Risotto and Med House Salad. Is your Instant Pot still in the box? Learn how easy it can be to use an electric pressure cooker with this heart healthy recipe.
Recipes: Cheesy Chicken Artichoke Risotto and Med House Salad
Episode Twelve: Whole Wheat Pasta with Pesto & Vegetables. Craving pasta? Learn how to incorporate a variety of vegetables into one quick and simple meal that your friends and family will love.
Recipes: Med Whole Wheat Pasta with Pesto & Veggies
Episode Thirteen: Hurricane Prep Meals. Hurricane season is upon us which can mean limited meal options for you and your family. Learn some hurricane preparation tips, including foods to have on hand, when and what to throw out after a storm, and some great disaster preparedness resources from NC State University.
Recipes: Fresh Made Salsa and Grilled Quesadillas
Episode Fourteen: All About Beans. Got beans? Beans are a great way to increase fiber in the diet and help to provide a feeling of fullness or satiety. They are also known for their heart health benefits since they are loaded with several vitamins and minerals and can help improve blood cholesterol. Join Sydney in today's episode as we add beans to some of our favorite foods, like spaghetti and burgers.
Recipes: Whole Wheat Pasta with Beans & Greens and Quinoa Pinto Bean Burgers
Episode Fifteen: Burrito Bowl and Roasted Butternut Squash. Looking for a new vegetable to try? Butternut squash is the perfect savory vegetable that you will want to add to your grocery list! Sydney will show you how easy it can be to cook this tasty squash we don't eat enough of.
Recipes: Burrito Bowl and Roasted Butternut Squash
Episode Sixteen: Back to School. Several school systems around the state have transitioned to our younger youth returning back to school at least a few times a week. This means not only are children trying to get back into a morning routine but parents are too! Try out these healthy breakfast recipes that are quick, tasty, and versatile to help your family start the day off right.
Recipes: Easy Egg Roll Ups, Overnight Oats, and Simple Rice Cake Snacks
Episode Seventeen: Fall Into Cooking – All Things Pumpkin. Pumpkin pie, pumpkin bread, pumpkin muffins, pumpkin coffee, pumpkin chips (?) – it is fall after all which means everything has transitioned to being pumpkin flavored. But how healthy are all of these "pumpkin flavored" things? The majority of the time, pumpkin flavored foods contain loads of sugar, and very little actual pumpkin. Pumpkin itself is a healthy vegetable that is low in calories and high in nutrients! Try out these tasty pumpkin recipes that will help fuel your pumpkin obsession.
Recipes: Turkey Pumpkin White Bean Chili and Healthy Pumpkin Muffins 
Episode Eighteen: Fall Into Cooking – Ground Turkey & Kale Soup. Fall is here which means it's soup season! Soup is an excellent way to get in lots of veggies, use up what you have in the refrigerator or garden, and feed your whole family with little effort. You'll want to add this recipe into your fall/winter meal rotation!
Recipes: Ground Turkey and Kale Soup
Episode Nineteen: All Things Sweet Potatoes: Did you know the sweet potato is North Carolina's state vegetable? We have an abundance of sweet potatoes in our state. Try out these creative ways to enjoy sweet potatoes this fall!
Recipes: Sweet Potato Fries, Robin's Sweet Potato and Kale Salad, and Stuffed Sweet Potatoes
Episode Twenty: Make Ahead Dish for the Holidays: Are you traveling this holiday season or want to get some of those dishes out of the way so you spend less time cooking on Thanksgiving Day? Try these tasty make-ahead holiday side dishes this Thanksgiving! Check out these resources from today's video – Basic Holiday Food Safety and Holiday Gatherings and Potlucks.
Recipes: Brussels Sprouts with Bacon, Pecans and Cranberries and Holiday Rice Salad
Episode Twenty-One: What to do with those Thanksgiving Leftovers? Try out these tasty recipes when you get tired of eating leftovers. These are easy to make and give you a completely different flavor using the traditional Thanksgiving meal foods.
Recipes: Turkey and Stuffing Stuffed Peppers and Leftover Thanksgiving Crunchwrap
Episode Twenty-Two: Not Your Traditional Chili: Cooler weather calls for warm foods. Chilis and soups are my favorite this time of year because there are so many varieties! If you need a spin on your traditional chili recipes, give these two a go – they won't disappoint!
Recipes: White Chicken Chili and Black Bean and Butternut Squash Chili
Episode Twenty-Three: Fixing that Sweet Tooth: The holidays are surrounded with sweet treats everywhere you go. It's absolutely okay to enjoy these foods during the holidays, we don't get them often! Learn these tips and trick to be mindful this holiday season, and when you're craving sweets at home, try these recipes to help keep you satisfied.
Recipes: Chocolate Chip Oatmeal Cookies and Microwave Baked Apples
Episode Twenty-Four: Too Busy for Breakfast? During the holiday season we tend to stay busy preparing foods and keeping on the go. Here are a few breakfast recipes you can make for the week that are easy to reheat and sure to satisfy you until lunch time!
Recipes: Egg Muffins and Maple-Pumpkin Spice Steel Cut Oats
Episode Twenty-Five: Holiday Appetizers. Need some tasty treats to take to your next holiday gathering? Try out these two holiday apps that are sure to be a crowd pleaser. (Psst, they're pretty good for you too!)
Recipes: Sweet Potato Bites and Olive Oil Deviled Eggs
Episode Twenty-Six: HAPPY NEW YEAR! In the south, we have a traditional New Year's Day meal we like to eat to bring us good fortune for the rest of the year. Try out these tasty recipes to get that meal on the table fast, but leave you licking your fingers for more!
Recipes: Black Eyed Peas & Ham, Cornbread, Southern Collard Greens
Episode Twenty-Seven:
Dieting for the New Year?
Ditch the fad diets and learn about a healthy, realistic way to eat that you can maintain for the remainder of the year (and beyond)! Sydney shows you a healthy Sesame Ginger Salmon Salad from Lauren Lane that checks all of the boxes.
Recipes: Lauren Lane's Sesame Ginger Salmon Salad
Episode Twenty-Eight: Portion Distortion!
We live in a world where we expect cookies the size of our palm and steaks the size of our plate! Learn how to be mindful about portion sizes, which can have a positive effect on your wallet and your waistband. Today's recipe is a new one from Medinsteadofmeds.com!
Recipes:
Mediterranean Bowl
Episode Twenty-Seven:
Healthy Swaps: Episode 1
 – Trying to eat healthy but craving some of your not so healthy favorites? Our next series is focused on healthy swaps you can make at home. Try out these Tuna Burgers and Sweet Potato Fries that are sure to please your taste buds!
Recipes: Cassidy's Sweet Potato Fries and
Tuna Burgers
Episode Twenty-Nine:
Craving a little taste of home?
Meatloaf has been a staple in American kitchens since the 19th century. Many traditional recipes contain sugar (think ketchup) and limited veggies. Try this swap from our Cook Smart, Eat Smart program that has been a hit since the program began! I also threw in a quick soup recipe that is perfect for those spur of the moment dinners.
Recipes: Mini Meatloaves and 15 Minute Soup
Episode Thirty: P I Z Z A
! My all time favorite food. Can this fit into a healthy diet? YES! Not only can the traditional pizza varieties fit (think portion control, upping veggie toppings, etc.), but we also have two healthy swaps for you to make at home, so you can still have your pizza pie and eat it too!
Recipes:
Med Instead of Meds Cauliflower Pizza Crust 
and Sydney's Personal Pizzas
Episode Thirty-Four:
Time to get sloppy!
I am finally sharing one of my all time favorite recipes from my favorite blogger, Lillie Eats and Tells. The Sloppy Joe Skillet has become a staple in my house. You would never guess it's loaded with veggies, uses ground turkey in place of beef, and takes your Sloppy Joe to the next level!
Recipe:
Lillie's Sloppy Joe Skillet
Episode Thirty-Five: 
Healthy Eating
  – Happy National Living Well month! Many of the programs we provide here at the N.C. Cooperative Extension office include choosing healthy foods that align with MyPlate. Try out these tasty recipes that will help you get in your lean protein, whole grains, and veggies!
Recipes:
Pistachio Crusted Chicken
, Roasted Brussel Sprouts,
Garlic Brown Rice
Episode Thirty-Six: 
Eating on a Budget
– In many of our Family & Consumer Sciences programs, including our Expanded Food and Nutrition Education Program (EFNEP), we provide tips on how to stretch your food dollars while also providing healthy meals. Try out this simple trick to help those meals stretch further!
Recipes:
Mushroom Beef Burgers
and
Vegetable Jambalaya
Episode Thirty-Seven: 
Eating Well for Mental Health
– It is often we think of healthy eating for our physical health, but it's also important for our brain health as well. When we're not feeling our best mentally, we may have symptoms such as being over tired, mood swings or depression, or inability to focus. Not only is feeding our body important, but so is feeding our brain (in many other ways than just the food we eat). Today we talk about foods that will help to give your brain energy, as well as tips on how to take a brain-break.
Recipes:
Salmon Patties
and
Quinoa Strawberry Salad
Episode Thirty-Eight: 
Food Safety
– Food safety is a big part of what we teach at N.C. Cooperative Extension. It not only fits into the realm of healthy eating and cooking, but it is also an important topic amongst disaster preparedness and cleanup. What does our mind go to when we think of foodborne illness? Cookie dough? Raw chicken? Salmonella? We'll talk about how to keep your food and family safe when cooking in the kitchen.
Recipes:
Roasted Chicken with Potatoes, Onions, and Carrots
Episode Thirty-Nine: Chicken & Mushroom Shepherd's Pie – I love finding a way to make recipes healthier. Although there are many variations of Shepherd's Pie, the traditional ingredients include ground meat, gravy, and mashed potatoes. While those ingredients aren't necessarily a bad choice, we can make them healthier by choosing leaner meats, low-fat milk in our gravy, and using olive oil instead of butter in our mashed potatoes. Don't worry, this dish doesn't skimp on flavor and will leave you completely satisfied!
Recipe: Chicken & Mushroom Shepherd's Pie, Homemade Chicken Broth
Episode Forty: Lightened up dinner – The best thing about warm weather is being able to do more things outdoors! As wonderful as the fresh air and sunshine is, after a hot day outside a lightened up dinner is a must. Try out this roasted carrot salad and crispy oven-baked pork chop. You'll want to add this salad to your go-to summer recipes!
Recipes: Roasted Carrot Salad and Crispy Oven-Baked Pork Chops
Episode Forty-One: Why Med?  You may be wondering, "why does the N.C. Cooperative Extension promote the Mediterranean Diet over other diets?" Well in this episode we dive into the "why" behind going Med as we move into National Mediterranean Diet month.
Recipes: Quinoa Summer Salad
Episode Forty-Two: Eat More Fruits and Vegetables. There can be a lot of misinformation and confusion about nutrition. However, eating more fruits and vegetables is one thing that most all dietary patterns, nutrition experts, and medical professionals can agree upon. This is because there is so much evidence to support the benefits of a diet heavy in fruits and vegetables. Join us as we make two tasty recipes that incorporate fruits and vegetables!
Recipes: Lillies Spring Spaghetti Squash Skillet and Oatmeal Breakfast Bars
Episode Forty-Three: Heart Healthy Fats. Unsure what the difference is between saturated fats and unsaturated fats? Want to know more about why we limit certain fats? Join us today as we talk all about different types of dietary fats, how they can affect our heart, and swaps to make to help keep your heart healthy!
Recipes: Lunch Wrap and Kachumber Salad
Episode Forty-Four:  Make it Med – Maybe you have decided you really want to try out the Mediterranean Diet, but are still hesitant to fully "go Med" because it means giving up some of your favorite foods. Fortunately, that doesn't have to be the case! There are simple flips we can make to help a dish align with the Mediterranean Diet eating pattern. Today we are going to make two of my favorite foods, but we'll be making them Med!
Recipes: Lillies Chicken Parm One Pan Bake and Cassidy's Black Bean Brownies
Episode Forty-Five: 
Garden to Table
  – Today we're joined by Sampson County Extension Master Food Volunteer, Dempsey Craig, as he walks us through the garden to teach us how to harvest fresh vegetables. Then stay tuned to see what delicious meal we turn them into!
Recipes:
Episode Forty-Six: 
Cooking with Herbs
  – We're back in the garden to learn all about growing and harvesting herbs! My favorite herbs are the ones you eat, so we'll be turning them into something tasty afterwards.
Recipes:
Episode Forty-Seven: 
Protein
– Let's talk about those macronutrients! We will dive into the 3 macronutrients over the next few weeks. This week is all about protein – why it's important, healthy sources, and of course a healthy recipe loaded with it.
Recipes:
Episode Forty-Eight: Airing June 22. Carbs – Carbohydrates get a bad rap these days, however they provide a lot of benefits to your body! As your body's preferred fuel source, they provide fiber and many carbs also contain important vitamins and minerals for your body. Learn all about why you shouldn't avoid carbs in today's lesson!
Recipes:
Episode Forty-Nine: Airing June 29. Fats – 9/10 people are still scared of consuming fat, even though we know some of the healthiest foods for us contain it. Today we'll talk all about unsaturated and saturated fats, and make two delicious recipes to help keep your cholesterol HAPPY!
Recipes:
Episode Fifty: Airing July 6. One Pan MyPlate Meal – Robin Palmer, Sampson Regional Medical Center's Community Wellness Coordinator, joins us today to talk all about MyPlate!
Recipes:
Episode Fifty-One: Airing July 13. Dining Out? – Summer is a great time to enjoy fellowship with friends and family, and sometimes that may involve dinner out. There are plenty of healthy options when eating out, and Robin from SRMC and I will help you to navigate the menu! We will also make a tasty meal that might have you choosing to eat in instead!
Recipes: